In this photographic series, Zinnia Naqvi mines family albums to examine intergenerational identity construction and the legacy of migration in Canadian families. Starting with archival images of the migrant parents in their country of origin, Naqvi works with their children to re-stage the photographs by posing in similar outfits and locations drawn from their current settings.

Presenting these images together enables a comparative examination of the two generations and their surroundings. The pairs reveal striking resemblances that lie not only in the physical features of family members but rather in their tendency to recreate their homes within the new environment, revealing a need to recover familiar points of reference within a new and foreign land. At the same time, the sets heighten our awareness of the cultural gaps between the countries of origin and Canada through equally marked differences from past to present snapshot.
Ana Belen Pautassi, Ajax ON. Canada, 2012.
Carolina Batica, Villa Allende, Cordoba, Argentina, 1978.
Vanaja Ganeshan, Kondavil, Jaffna, Sri Lanka. 1977.
Byra Dineshkumar, Pickering, ON. 2012.

Caroline Chan, Pickering ON. Canada, 2012
Linda Eng, Hong Kong, 1957.
Philomena Quaye, Accra, Ghana. 1987.
Cassie Quaye, Ajax ON. 2012
Hilary Roche, Dublin, Ireland. 1985
Daire Roche, Toronto, ON. 2013
Humza Hussain, Ajax ON. 2012.
Nassir Husain, Chicago, IL., USA. 1974.
George Anthony Weekes, Port of Spain, Trinidad. 1972.
Jabbari Weekes, Pickering, ON. Canada 2013.
Petra Klueck, Bonn, Germany 1987.
Louise McCulloch, Toronto, ON. 2013.
Tonya Campbell, Pickering, ON. 2012.
Andrea Farrell, Fontabelle, Barbados, 1973.
Guy Rohan John, Toronto ON. Canada, 2012
Nick John, Richmond St., Grenada, 1967.
Silvia Farah, Siracusa, Italy. 1960.
Carolina Batica, Ajax ON. Canada. 2012.

Past and Present II (video)
11 min 8 sec
In the video iteration of this project, the artistic process is revealed as the subjects carefully arrange their stance to reproduce their parent's photograph and thoughtfully consider the experiences that led them where they are now. Most circumstances of migration imply a sacrifice in leaving one's home in search of a new life for the next generation. Looking back at the family archive with Naqvi, both subjects and viewers are invited to cherish each individual story and the significance of family narratives.
Yonder - University of Waterloo Art Gallery Waterloo. Curated by Matthew Brower and Mona Filip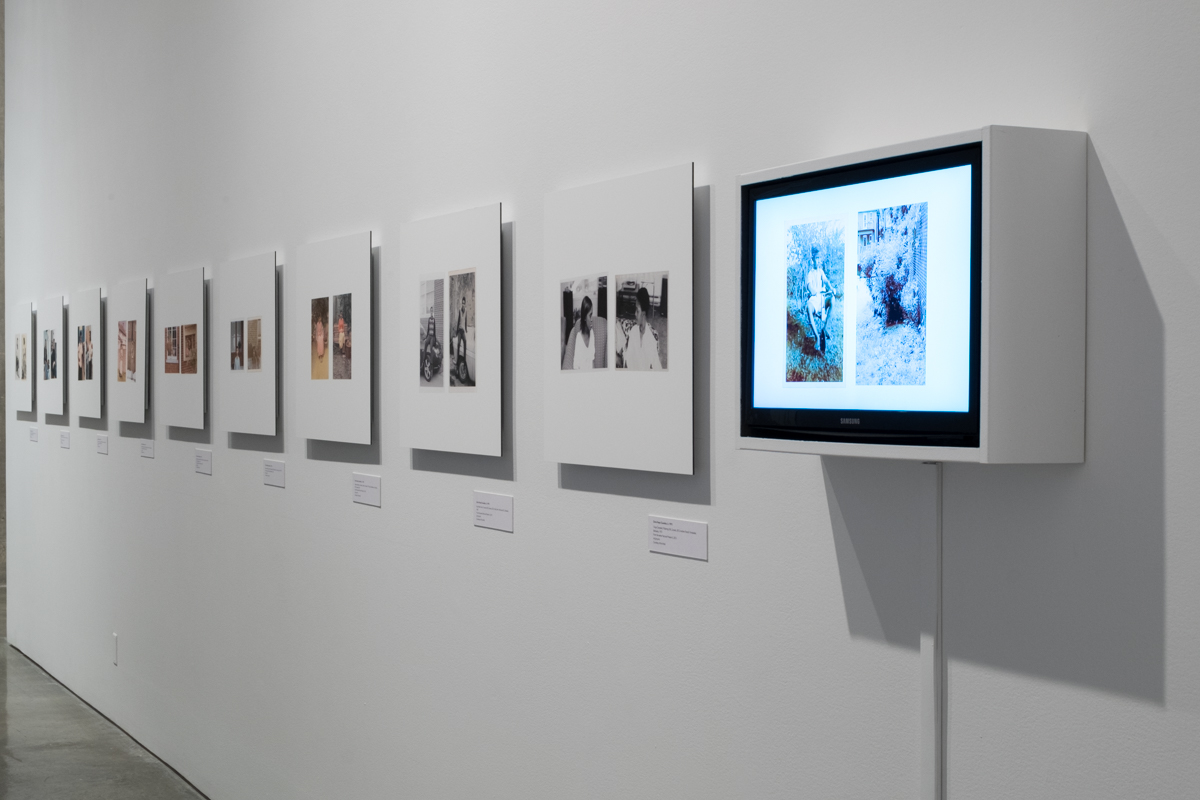 Re Present: Photography from South Asia - Kamloops Art Gallery, Kamloops BC. Curated by Adrienne Fast